Are you ready to get wild before summer ends? Yes? ...no. You're not. You're not ready at all, yet. At least, not until you acquire some of these Summertime Party Starters. Consider them some of the greatest assets your summer portfolio will ever include.

The Flowzie Shotgun Koozie

It's time for a GUN ROUND. Circle up. But, watch out--Pete's standing next to you. And that amateur explodes half his beer every time he touches aluminum. Bush league.
But…wait, now your beer is getting warm. Hurry up. Key those holes and hope Pete hits that air bubble just right.
…Shouldn't Shotgun Rounds be easier? And, can't we all ditch Pete? Well, I can't do anything about Pete, but here's a new product that will revolutionize your next Gun Round:
It's the Flowzie Shotgun Koozie, man. Drop your beer inside the koozie, press the button on the side to open a hole, and GUNS UP. It's so easy an amateur can do it. But only professionals stock them for their party. Don't be like Pete: buy some Flowzies.
Looking to up your game? Click here for more details.
Inflatable Pong Table & Cooler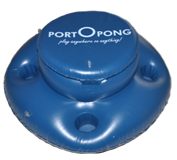 You know what else I dislike about Pete? He's got that great pool at his place, but he never manages to throw a good pool party.
That's it: Screw Pete. Let's order one of those awesome Inflatable Pong Tables, sneak over to Pete's house when he's not home, and throw a rager.*
When properly inflated, there's ten holders on each side to secure your cups and one for a water cup on each side. Also you should know that the table has been found useful outside of the water at tailgates when carrying a full table isn't practical.
Along with the tables, I'd recommend stocking up on a floating cooler as well. It'll keep our brews cold right next to the table while you dominate. This floating cooler holds up to 12 cans with ice and includes 4 cup holders, plus a grommet to tie off the cooler to your table or other anchor device.
You just have to inflate, spread the word, and wait. If there's one thing I know for sure, it's that everyone digs the Pong Ball.
Make the splash. Click here for more details.
Mullet-on-the-Go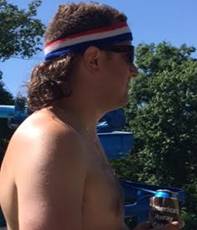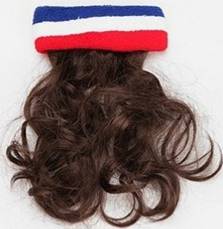 Now, this…this is the crown jewel. Your own, personal mullet. Anywhere you want it. Anytime you want it. America is in your hair.
An All-American, red, white, and blue headband. With a little something extra. That's right. The mullet wig is attached and letting everyone know: You like to party.
I'm not even going to say much else. If you haven't already clicked the link to pick up one of these bad boys already, then you hate America.
You don't have America, do you?
Girls, at first you might beg him to take it off, but just wait long enough for a summer breeze to blow by and let him gaze ever so gently into your eyes while the mullet, swaying in the cool air, whispers the sweet nothings that make you weak at the knees.
In addition to the red, white, and blue headband option, there's options for all different hair colors/styles and different colored headbands to choose from to find the one that best suits you. They even make mullets for your dog/cat so your pets can show those commies what's up.
Seriously, do you hate America? Click here to prove your patriotism.
Butt-Watchers

All right. You just finished a game of pong on the inflatable table. Losers have to shotgun—using the Flowzie, of course (and winners join the Gun Round. Because, this is a party). You have your Mullet-on-the-Go wig on, so you're radiating America. And, luck you, the ladies are just starting to show up.
So, you know what time it is. That's right: It's time to WATCH BUTTS.
Fact: Watching girls' butts at a summer party has been this country's greatest past time since Benjamin Franklin and George Washington invented it in the summer of 1778.
But, now, these shades have made it even better: With these shades, you can watch butts in stealth mode. The reflective lenses hide your eyes, and you can continue to watch the prize.
And, ladies, remember: Dudes have butts, too. Rumor has it Martha Washington first noticed George while walking behind him.
Don't get caught. Click here to engage stealth mode.
Exploding Golf Balls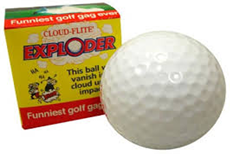 Ok. Party's over. You had a blast. But, there's another opportunity to keep the good times going!
Because Pete came home and ruined the fun. He yelled at you for throwing a kick-ass party at his place, without his permission. To make it up to him, take him out for a round of golf.
But, remember: Screw Pete. Trick him by placing one of these bad boys on his tee and wait for hilarity to ensue. These balls look pretty identical to authentic golf balls but once he makes contact with the club they explode into a cloud of white dust. It's recommend to wait until your friend needs another ball and then tee it up for them. There's plenty of videos on Youtube instructing how to best pull off this epic prank. Not many people know these are out there, so get them before every bush-leaguer has one in their golf bag.
Hilarious Exploding Golf Balls: Teeing off your friends while giving them the mulligan they'll never forget since some year I'm too lazy to make up.
Pick up a 4-pack here.
*We do not actually recommend Breaking & Entering. Even if we do think Pete stinks.