With the new school year quickly approaching, many incoming college students are starting to think about Greek Life for a multitude of reasons. Potential new members across the country will rush sororities as soon as this coming August. If philanthropy is a big part of why you're looking to pledge, check out these sorority chapters and the events they hold to benefit the charities of their choosing before rushing to "rush."


Alpha Chi Omega at Arizona State University: Every year, the sisters host events the benefit survivors of domestic abuse. 80% of the money from these events go to "Emerge," a program that offers resources to survivors. The Lyre Games, held in the spring is one of those events. It is a week full of contests that other fraternities participate in, leading up to an obstacle course challenge. In addition to the Lyre Games, the sorority also dedicates the month of October (Domestic Violence Awareness Month) to educating people of this epidemic.
Alpha Delta Pi at the University of Pennsylvania
: These sisters hold an annual event called "Pie-A-President" to benefit the Ronald McDonald House Charities. At the event, leaders from different organizations on campus come together and let students pie them in the face, for $3 per pie. In 2015, 78 different campus leaders joined in on the event and the sisters raised $1,870 for their charity. Throughout the year, they also collect soda pop tabs for the Ronald McDonald House.
Zeta Tau Alpha at High Point University
: This sorority holds an annual "Big Man on Campus" event for breast cancer education and awareness. The fall 2015 semester marked its eight year of the event. Men from different campus sports teams, clubs and fraternities compete for the title of "Big Man on Campus." In 2015, the male beauty pageant raised $5,000.
Kappa Delta at the University of Mississippi
: This groups "Shamrock and Roll" event benefits both the Oxford Exchange Club Family Center and Prevent Child Abuse America (PCAA). This annual event includes a live band, food and a photo booth provided by the sorority. Raffle and meal tickets are sold to help fund the event. The 2016 theme of the dance was the 1950s. 80% of the proceeds earned from the event went to the Oxford Exchange and 20% went to PCAA
Chi Omega at Western Kentucky University
: With the growing popularity of music festivals, the sisters of Chi O decided to throw its first annual "ChiOchella" music festival to benefit the Make-A-Wish Foundation. Tickets were on sale for $5 presale and $8 at the gate. A Texas chapter of Chi O held a similar event as well.
Alpha Delta Pi at the University of Kentucky
: Alongside the national organization, Color Me Rad 5k, these sisters hosted a race to benefit the Ronald McDonald House Charities (RMHC) of the Bluegrass. Color Me Rad is a 5k race in which the runners are covered in different colored paints. The 2015 event raised more than $10,000 for the charity. Since 1979, Alpha Delta Pi has donated over $10 million to RMHC.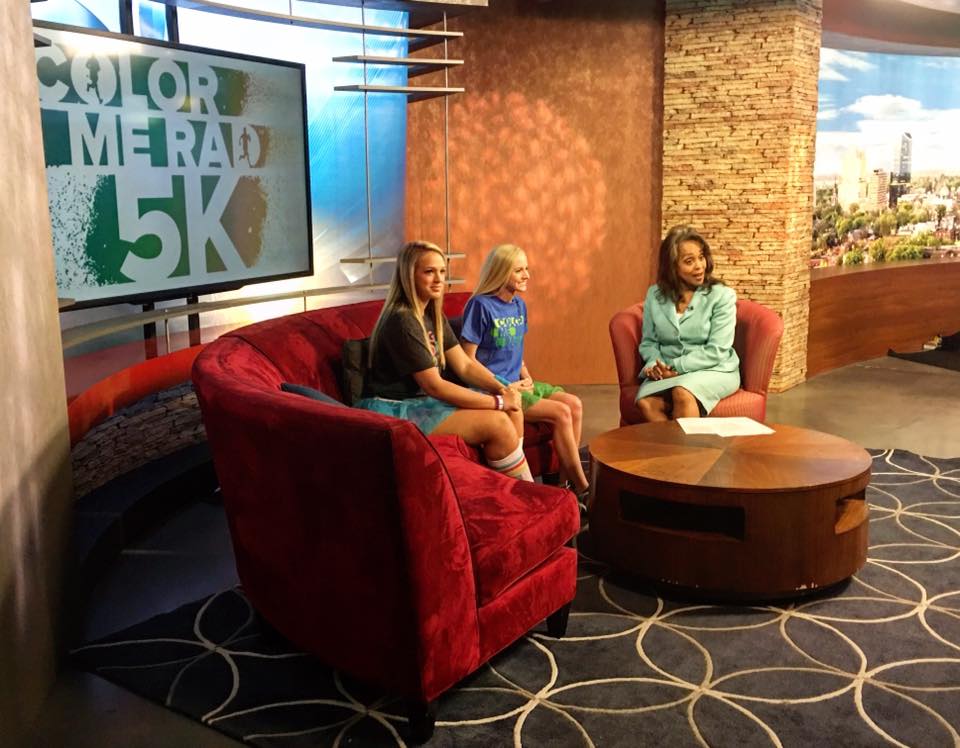 Kappa Kappa Gamma at the University of Georgia
: These sisters host an annual color run every year to benefit Books for Keeps. In 2016, they raised over $9,000 for their philanthropy, which strives to provide books for children who have limited reading resources to improve reading achievement. '
Delta Gamma at the University of Mississippi
: The sorority held its annual Milk and Cookies event to raise money for Gallant Hearts Guide Dog Center in Madison, Mississippi and for Service for Sight. For $5, attendees got two cookies and some milk, with the hope of donating $20,000 between the two charities. The sisters baked over 5,500 cookies for the event.
Alpha Chi Omega at the University of Utah
: These sisters banded together to help Brigham Young University student, Madi Barney, who was accused of violating her school's honor code after reporting a rape on campus. Alpha Chi Omega is already engaged in philanthropies related to sexual violence and decided to send Barney a care package and publically supported her fight against her school. Nearly 114,000 people signed a petition in support of Barney.
Kappa Delta at the University of Texas
: Every year, UT hosts its RoundUp, a weekend long event hosted by many fraternities and sororities on campus. Kappa Delta hosted "KD Quesadillas," selling quesadillas and churros, benefitting the Austin Center for Child Protection. They also held a golf tournament that raised $60,000 for their philanthropy, and usually gross $5,000 during RoundUp.