From pastel polos to derby sun hats proper attire is generally not an optional part of greek life. Behold your guide to the most popular brands worn by greeks.

Whether you are rushing a fraternity or sorority or are already in one, you don't want to be caught dead in jorts (jean shorts) or sweat pants.
These are the top 5 Greekrank approved brands to be worn:
1. Lilly Pulitzer

Stylish and trendy, Lilly Pulitzer is known for their colorful pastel summer wear. Lilly often hires reps for various campuses that give out discounts if you order through them. Wear their dresses out to a barbeque or any event and you are guaranteed to look amazing!
2. Vineyard Vines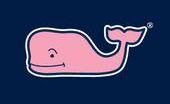 Ahhh the famous pink whale. A popular choice amongst fraternity brothers. Quality clothing, a bit expensive but nothing you can't handle.
3. Polo Ralph Lauren

Great clothing for fraternity brothers and sorority sisters. Plenty to choose from.
4. Costa Del Mar Sunglasses

The goto sunglasses for a fratty day time event. Wearing them with lanyards is a good idea…
5. Your own fraternity or sorority branded clothes
This one goes without saying. Rep your fraternity or sorority, just don't get caught drinking or doing dumb stuff while wearing your letters.